Azolla (Caroliniana): An Aquatic Energy Crop for Remediation of Eutrophic Ecosystems with Prospect of Biofuel Production in Bangladesh
Keywords:
Phytoremediation, Azolla, Water quality, Removal efficiency, Green energy
Abstract
The Phytoremediation ability of aquatic macrophyte, Azolla as potential biomass, to improve the quality of eutrophic lakes and river water of Bangladesh at lab scale were studied to remove organics, solutes and improving the physicochemical properties of water including pH, DO, EC, TDS, Turbidity and NaCl concentration. In the different eutrophic water, a 100% survival rate of the species was observed. The extensive root system of the phytoremediator improves water quality after one week as determined by a marked decrease in Turbidity, TDS,  EC & Nacl and increased in DO and pH. DO content served as a useful indicator of water quality and increased manifolds over 7 days (one week) of treatment. The capability of the plant in removing pollutants and improving water quality was established from the study. After phytoremediation activities, the discarded energy crop biomass could be used to produce green energy because of its high growth potential.
Downloads
Download data is not yet available.
References
Alam, A. R. and Hoque, S. (2017). Phytoremediation of industrial wastewater by culturing aquatic macrophytes Trapa natans L. and Sahinic cucullat Roxb. Jahangirnagar University Journal of Biological Sciences 6(2), 19 – 27.
Ansari, A. A., Naeem, M., Gill, S. S.., AlZuaibr, F. M. (2020). Phytoremediation of contaminated waters: An eco-friendly technology based on aquatic macrophytes application. Egyptian Journal of Aquatic Research. https://doi.org/10.1016/j.ejar.2020.03.002
Awuah, E., Oppong-Peprah, M., Lubberding, H. J., & Gijzen, H. J. (2004). Comparative performance studies of water lettuce, duckweed, and algal-based stabilization ponds using low-strength sewage. Journal of Toxicology and Environmental Health, Part A, 67(20-22), 1727-1739.
Bhateria, R., & Jain, D. (2016). Water quality assessment of lake water: a review. Sustainable Water Resources Management, 2(2), 161-173.
Carolin, C. F., Kumar, P. S., Saravanan, A., Joshiba, G. J., & Naushad, M. (2017). Efficient techniques for the removal of toxic heavy metals from aquatic environment: A review. Journal of environmental chemical engineering, 5(3), 2782-2799.
Dipu, S., Kumar, A. A and Thanga, V. S. G. (2011). Phytoremediation of dairy effluent by constructed wetland technology. Environmentalist, 31: 263-278.
Gaballah. M. S. Ismail, K., Beltagy, A., Zein Eldin, A. M., Ismail, M. M. (2019). Wastewater Treatment Potential of Water Lettuce (Pistia stratiotes) with Modified Engineering Design. Journal of Water Chemistry and Technology, 41(30), 197-205.
Galal, T. M. and Farahat, E. A. (2015). The invasive macrophyte Pistia stratiotes L. as a bioindicator for water pollution in Lake Mariut, Egypt. Environ Monit Assess. 187(11)701. https://doi.org/10.1007/s10661-015-4941-4
Galal, T. M., Eid, E. M., Dakhil, M. A., & Hassan, L. M. (2018). Bioaccumulation and rhizofiltration potential of Pistia stratiotes L. for mitigating water pollution in the Egyptian wetlands. International journal of phytoremediation, 20(5), 440-447.
Gijzen H. and Kondker M. (1997). An Overview of the Ecology, Physiology, Cultivation and Application of Duckweed in Caption Report. Annex-1, Literature Review. Duckweed Research Project (DWRP). Dhaka, Bangladesh.
Gupta, P. Roy, S. & Mahindrakar, A. B. (2012). Treatment of Water Using Water Hyacinth, Water Lettuce and Vetiver Grass - A Review. Resources and Environment, 2(5), 202-215.
Kumar. V., Singh, J., Saini, A., Kumar, P. (2019). Phytoremediation of copper, iron and mercury from aqueous solution by water lettuce (Pistia stratiotes L.). Environmental Sustainability, 2(1), 55-65. https://doi.org/10.1007/s42398-019-00050-8
Leung, H. M., Duzgoren-Aydin, N. S., Au, C. K., Krupanidhi, S., Fung, K. Y., Cheung, K. C., & Tsui, M. T. K. (2017). Monitoring and assessment of heavy metal contamination in a constructed wetland in Shaoguan (Guangdong Province, China): bioaccumulation of Pb, Zn, Cu and Cd in aquatic and terrestrial components. Environmental science and pollution research, 24(10), 9079-9088.
Lu, Q., He, Z. L., Graetz, D. A., Stoffella, P. J., & Yang, X. (2010). Phytoremediation to remove nutrients and improve eutrophic stormwaters using water lettuce (Pistia stratiotes L.). Environmental Science and Pollution Research, 17(1), 84-96.
Mahmood, Q., Zheng, P., Islam, E., Hayat, y., Hassan, M.J., Jilani, G. and Jin, R.C. (2005) Labscale studies on water hyacinth (Eicchorniacrassipesmart solms) for biotreatment oftextile waste water. Caspian J. Env.Sci. 3(2), 83-88.
Miretzky, P., Saralegui, A., & Cirelli, A. F. (2004). Aquatic macrophytes potential for the simultaneous removal of heavy metals (Buenos Aires, Argentina). Chemosphere, 57(8), 997-1005.
Nabi, A., Alam, K. M. R., Hoque, S. (2016). Treatment of wastewater with free floating quaticmacrophyte – Eichhornia crassipes. Jahangirnagar University Environ. Bull. 5, 1-9.
Nahar, K. and Sunny, S. (2019). Duckweed based clean energy production dynamics (Ethanol and Biogas) and Phytoremediation potential in Bangladesh. Springer nature, Modeling Earth System and Environment, 5(4), 1-11. https://doi.org/10.1007/s40808-019-00659-y
Nahar, K., Sunny, S. A., & Shazi, S. S. (2011). Land use requirement and urban growth implications for the production of biofuel in Bangladesh. Canadian Journal on Scientific and Industrial Research, 2(6), 195-208.
Nahar. K. (2012). Biogas Production from Water Hyacinth (Eichhornia Crassipes). Asian Journal of Applied Science and Engineering, 1(1): 9 -13
Nassouhi, D., Ergonal, M. B., Fikirdesici, S., Karacakaya, P., Atasagun, S. (2018). The use of some submersed and free floating aquatic macrophytes in the bioremediation of heavy metal pollution. Journal of Egirdir Fisheries Faculty SDU- JEFE 14 (2), 148- 165
Odjegba, V. J., & Fasidi, I. O. (2004). Accumulation of trace elements by Pistia stratiotes: implications for phytoremediation. Ecotoxicology, 13(7), 637-646.
Olguín, E. J., García-López, D. A., González-Portela, R. E., & Sánchez-Galván, G. (2017). Year-round phytofiltration lagoon assessment using Pistia stratiotes within a pilot-plant scale biorefinery. Science of the Total Environment, 592, 326-333.
Qin, H., Zhang, Z., Liu, M., Liu, H., Wang, Y., Wen, X., & Yan, S. (2016). Site test of phytoremediation of an open pond contaminated with domestic sewage using water hyacinth and water lettuce. Ecological engineering, 95, 753-762.
Reeta, D. S., and Ann, C. W. (2004). Nutrient removal by floating aquatic macrophytes cultured in anaerobically digested flushed dairy manure wastewater. Ecol. Eng. 22, 27 – 42.
Reyes, A. T., and Santos, M. K. M. (2019). Phytoremediation potential of Water Hyacinth (Eichhornia crassipes) in tanks with high organic matter. Int J. fish Aquat Stud 7(6), 107-109.
Rezania, S., Ponraj, M., Talaiekhozani, A., Mohamad, S. E., Din, M. F. M., Taib, S. M., & Sairan, F. M. (2015). Perspectives of phytoremediation using water hyacinth for removal of heavy metals, organic and inorganic pollutants in wastewater. Journal of environmental management, 163, 125-133.
Rodrigues, A. C. D., do Amaral Sobrinho, N. M. B., dos Santos, F. S., dos Santos, A. M., Pereira, A. C. C., & Lima, E. S. A. (2017). Biosorption of toxic metals by water lettuce (Pistia stratiotes) biomass. Water, Air, & Soil Pollution, 228(4), 156.
Rodrigues, A. C. D., Rocha, M. V. D. C., Lima, E. S. A., Pinho, C. F. D., Santos, A. M. D., Santos, F. S. D., & Amaral Sobrinho, N. M. B. D. (2020). Potential of water lettuce (Pistia stratiotes L.) for phytoremediation: physiological responses and kinetics of zinc uptake. International Journal of Phytoremediation, 1-9.
Ugya, A. Y., I. M., Toma, and Abba A. (2015b) Comparative Studies on the Efficiency of Lemna minor L., Eicchorniacrassipes and Pistia stratiotes in the phytoremediation of Refinery Waste Water. Sciences World Journal, 10(3).
Zimmel, Y., Kizhener, F., and Malkovskaja, A. (2006). Application of Eichhornia crassipes and Pistia stratiotes for treatment of urban sewage in Israel. J. Environ. Manag. 81(4), 420–428.
--0--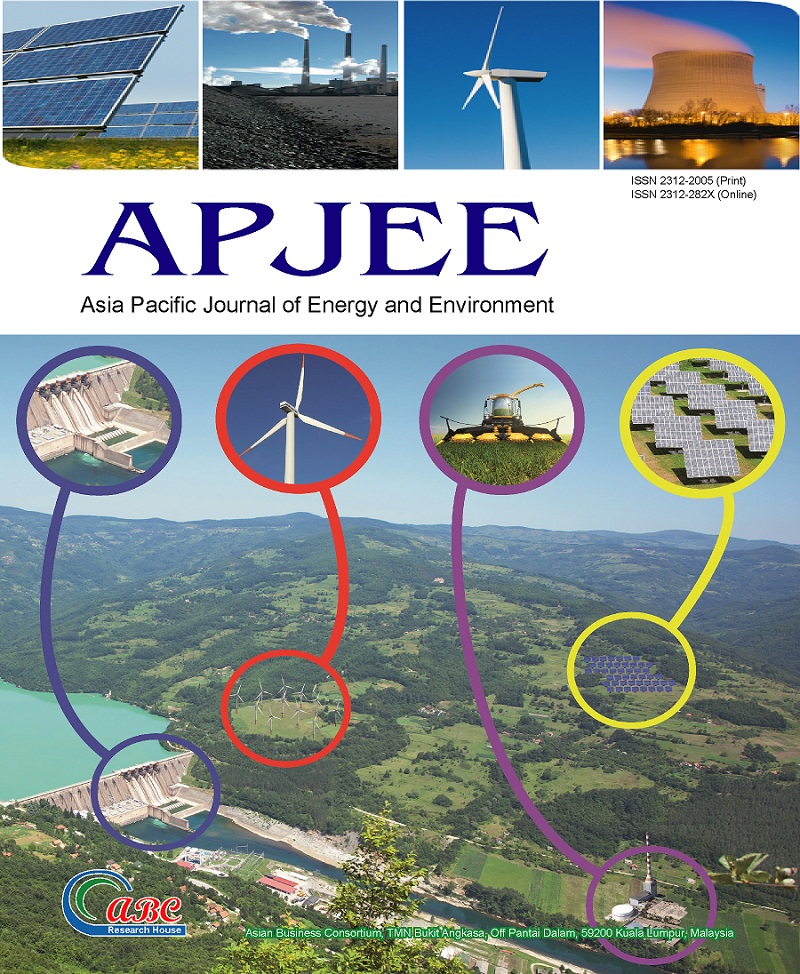 Downloads
License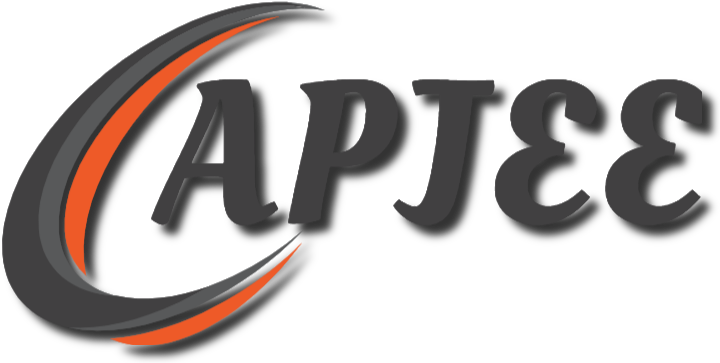 The CC BY-NC 4.0 license lets others remix, tweak, and build upon your work non-commercially, and although their new works must also acknowledge & be non-commercial, they don't have to license their derivative works on the same terms.
Publishing paper with Asia Pacific Journal of Energy and Environment means that the author or authors retain the copyright in the paper.
This journal is granted an exclusive noncommercial reuse license by the author(s), but the author(s) are able to put the paper onto a website, distribute it to colleagues, give it to students, use it in your thesis, etc, so long as the use is not directed at commercial advantage or toward private monetary gain.
The author(s) can reuse the figures and tables and other information contained in their paper published by Asia Pacific Journal of Energy and Environment in future papers or work without having to ask anyone for permission, provided that the figures, tables or other information that is included in the new paper or work properly references the published paper as the source of the figures, tables or other information, and the new paper or work is not direct at private monetary gain or commercial advantage.
How to Cite
Nahar, K. . (2020). Azolla (Caroliniana): An Aquatic Energy Crop for Remediation of Eutrophic Ecosystems with Prospect of Biofuel Production in Bangladesh.
Asia Pacific Journal of Energy and Environment
,
7
(2), 79-86.
https://doi.org/10.18034/apjee.v7i2.530